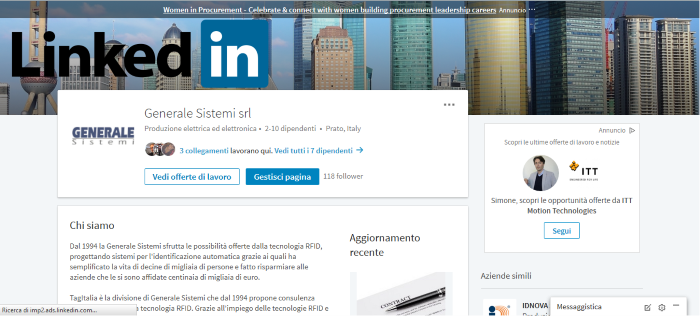 Social: New Linkedin profile for Generale Sistemi
Generale sistemi is pleased to announce the upgrade and refresh of news sharing service on the well-known social network Linkedin
The purpose is obviously to show and spread the many company Brands, product news, immediate information about references and case studies, and information about market news, etc. Not only space for our company business, but also that of our business partners in a shared view of the knowledge typical used in the new model of B2B communication. "That's why we decided to reorganize the company's presence on Linkedin, the business-oriented platform that allows users to expand their own professional network. The new company's profile, just opened on this platform, is one of the many innovations this month that we are glad to announce, because we are convinced of the quality of this tool through which we will be able to increase our network of knowledge, get in touch with the most competent professionals and strengthen the relationships with all those who are already part of our network" reports the internal marketing office.
So, the original company's profile has been structured with four new pages, one for each division (TagItalia, RicreArea and In-Presa), plus a showcase dedicated to the Railway and Metro sectors, still contemplated by TagItalia, but with its own particular dynamics that require a dedicated space so far.
These showcases will have the purpose to allow a more targeted diffusion of the several information generated within the company, with the aim of avoiding an intrusive presence towards users not always directly concerned or interested.
The presence of the company on the portal remains the rofile of Generale Sistemi of course, which will be soon accompanied by many other social channels, within a market strategy more and more extensive. This will aim to enhance the technical aspects, namely those of the linkedin showcases, those of the Twitter and Facebook profile of In-Presa, the most aesthetically pleasing ones linked to the Pinterest profile and immediate video availability with Youtube video channel. All this thanks to the restyling and completion of the three company sites. More information will soon be released about all these new tools.
Of course, we invite you to follow us, through the links listed below, to discover all the possibilities and opportunities offered by this platform!
The Generale Sistemi team